Korea Hapkido Federation-USA (KHF) Annual Seminar is a tremendous international success!
The Korea Hapkido Federation-USA Branch held the first annual seminar October 16-18, 2015 at the KHF-USA branch headquarters in Wentzville, Missouri. This was the first of many official seminars at the USA Branch HQ as well as throughout the United States. Grandmaster Michael Rhoades, U.S.A. Director for The Korea Hapkido Federation-U.S.A. Branch, along with Grandmaster Kim Myung Yong, Founder of Jin Jung Kwan Hapkido hosted students from all around the globe!

The KHF-USA would like to thank KHF Worldwide President GM Oh, Se Lim and General Director GM Bae, Sung Book for their support of the KHF-USA branch. The KHF-USA would also like to thank Grandmaster Kim Myung Yong and Grandmaster Michael Rhoades for sharing their knowledge and skills with Masters and Instructors from all over the world at the event. Grandmaster Kim shared his experience through the past seven decades with the students on the floor. His amazing ability to communicate bridged the multiple languages 'barriers' that were in attendance. Grandmaster Rhoades' teaching skills and abilities set the standard! Explanation and demonstration of the techniques were quickly grasped by the students. The open-mindedness of the Hapkido instructors and students made this learning experience incomparable to any other method of instruction.

The Masters and Instructors who participated were highly motivated and true professionals who were eager to learn and grow.

Masters and Instructors from Russia, Chile, Mexico and all across the United States could be found on the training floor. Family was reunited and the shared love for Hapkido was brought together. This highly anticipated, much discussed event incorporated an unbelievable cultural opportunity for Hapkidoans to train together and come together as the family that the art of Hapkido is famous for.

A very special thank you to Master Dmitry Lozhensky for traveling from Russia to support our event and we have signed an agreement of co-operation between KHF-Russia and the KHF-USA branch. Additionally, Master Lozhensky filmed GM Rhoades performing firearm extractions, knife disarms and roping/arresting techniques. This filmography will be shown on Russian television.

Master Tracy Green was honored by being named the Secretary of the KHF-USA. Master Kyle Ament was presented his appointment as the North Central USA Director and Master Benjamin Carrasco was officially appointed as the South Central USA Director.

The KHF is uniting and growing with Hapkido professionals across the USA. As John Maxwell Team Member, Chris Robinson said during his speech at the training event for those who were there to kick off the KHF-USA seminar, "I was in the room!" is something that will created a lifelong memory for the attendees of this event.

Martial Art Instructors can host seminars at their locations. If you are a Hapkido practitioner and looking for a home where you and your students can learn and grow without politics, look no further…koreahapkidofederation.net Hap Ki!

---
KHF-USA 2015 Seminar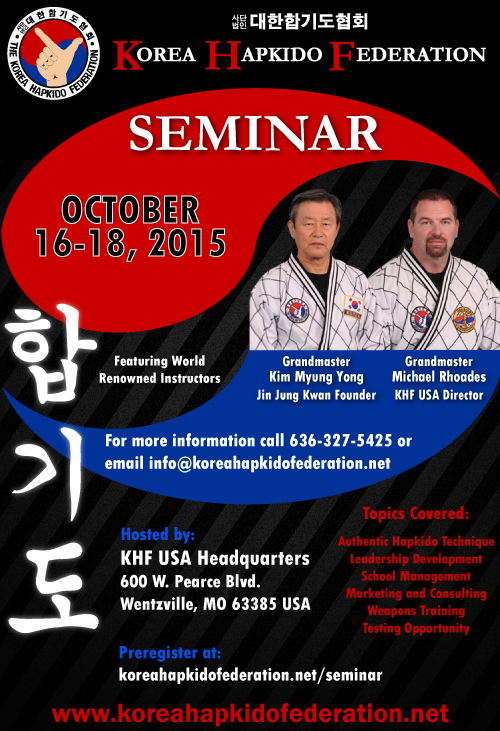 ---
GM MICHAEL RHOADES APPOINTED AS USA BRANCH DIRECTOR
Grandmaster Michael Rhoades was appointed as the Director of the Korea Hapkido Federation over the United States in April 2015. He has humbly thanked all his seniors in the Hapkido community and especially Gm Kim Myung Yong, Gm Bae Sung Book and Obviously President Oh Se Lim.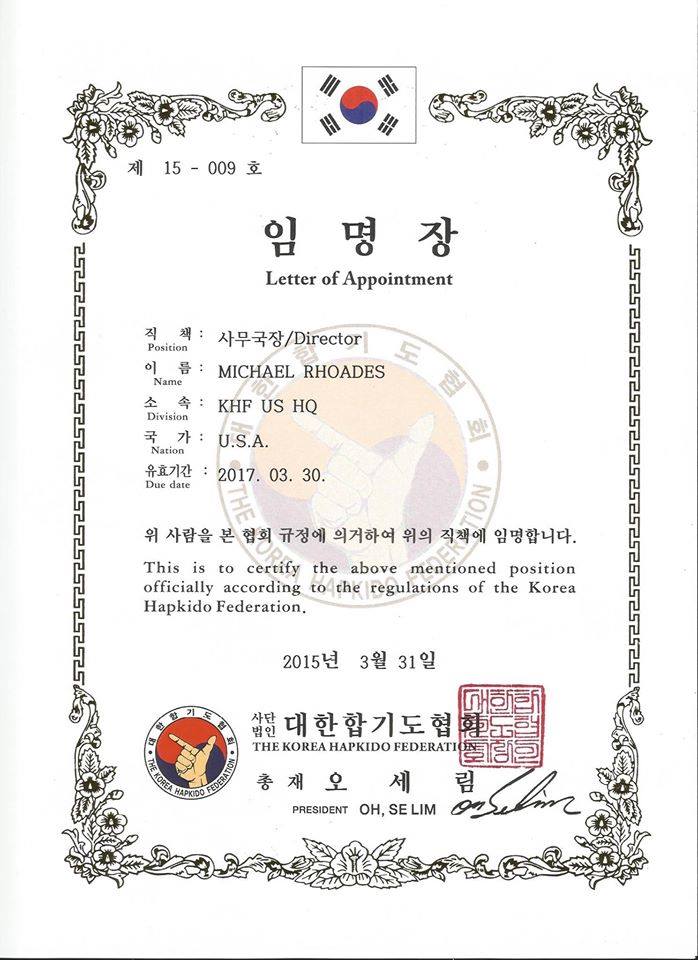 ---
2014 KHF MASTERS COURSE ANNOUNCED
The Korea Hapkido Federation (KHF) has announced it will hold the KHF Masters Course in Bogota, Columbia on October 10th thru 12th, 2014. This marks he first time that the KHF has held the Masters Course outside of Korea and is part of the KHF's effort to support the growth of Hapkido internationally.
Conducting the course will be international recognized masters including:
KHF President Master Oh, Se Lim
KHF General Director Master Bae, Sung Book
KHF Secretary General, Latin America Master Fabian Duque.
For more information please contact Master Fabian Duque at khflatinamerica@gmail.com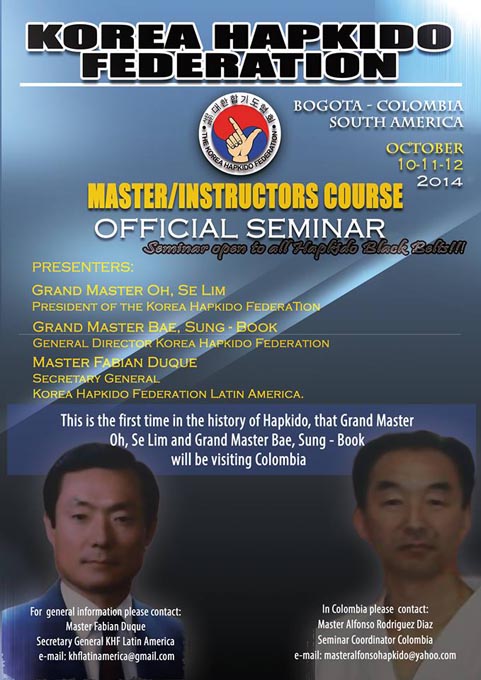 ---
KHF 18th INTERNATIONAL HAPKIDO CHAMPIONSHIPS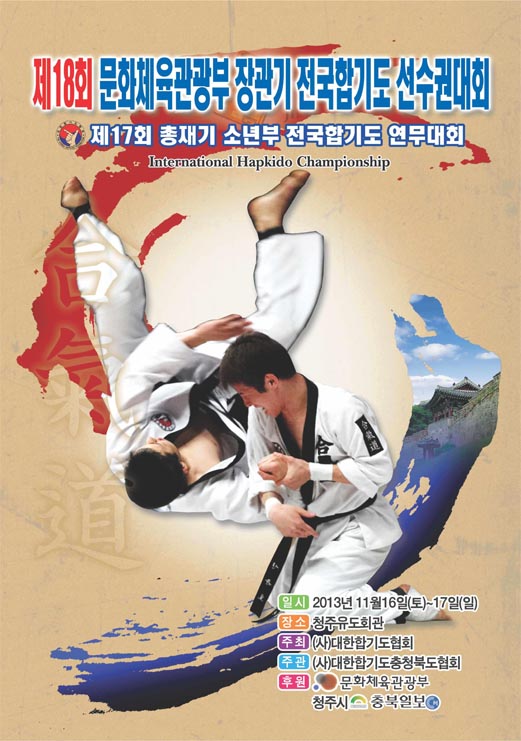 The Korea Hapkido Federation (KHF) has announced The 18th International Hapkido Championships in conjunction with the Minister of Culture, Sports and Tourism. The purpose of this event is to assist in the development of Hapkido worldwide while building friendships and professional relationships that will help spread the true spirit of martial arts.
Date: November 17th, 2013
Location: Chungju City, Chungbuk-Do, Korea
Sponsor: Korea Hapkido Federation
Manager: Korea Hapkido Chungbuk Federation
Competition will take place for the following events:
Hoshin-sool (Self Defense Techniques)
Sonmok-sool (Wrist-techniques)
Eyubok-sool (Clothes-techniques)
Bangkwon-sool (Punch Blocking-techniques)
Bangjok-sool (Kick Blocking-techniques)
Mooki-sool (Weapon-techniques)
Yunhang-sool (Aressting-techniques)
Nakbub-sool (Falling techniques)
Kijang-Nakbup-sool (Falling-distance)
Height-Nakbup-sool (Falling-height)
Taksu0Balchagi-sool (Special kicking techniques)
Dolahchagi-sool (Back spin kick)
Kawichagi-sool (Scissor kick)
Dubalmoahchagi-sool(Synchronized Kick using two feet)
Hapkido Team Choreography of techniques
Show time from 5 minutes to 8 minutes
Each team members from 10 to 20 people
Awards
Gold, Silver and Bronze Medals for winners in each division. Trophies and Medals for team competition winners.
For further information please contact Master Bae:
Tel. 82-2-452-3538
Tel. 82-2-3437-3530
khfdirector@gmail.com
---
KHF ANNOUNCES THE 22ND MASTERS COURSE SEMINAR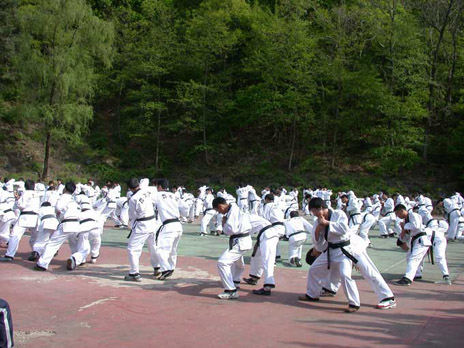 The Korea Hapkido Federation (KHF) will hold its 22nd Master's Course Seminar on October 19th, 2013 through October 29th. The training course will be held at the KHF's newly established KHF Central Institute for Training located in Kyung-Ju, Korea.

Traditionally the KHF has held the masters course annually but has decided to expand the course so that it will be offered twice a year, the first session will be held each May and the second session each October. The KHF has decided to expand the pro=gram so as to better serve its members and to assist the worldwide expansion of Hapkido.


Attendance and completion of his course is required for promotion to 4th Dan in the KHF.
Applicants must be:
* 18 years of age prior to the date of the course.
* 3rd Dan holders who are preparing for 4th Dan rank testing.
* 4th Dan holders or the above Dan holders who have not completed the Master's Seminar. Completion of the KHF Master's Course is required to receive the rank of 4th Dan.
* Masters or instructors holding the rank of 3rd Dan or higher rank from other HKD organizations wishing to receive KHF rank and certification.
The purpose of the Master's Course is to provide an advanced understanding of Hapkido, Tong-Sung, Jee-Myung, and Bo-Jung while perfecting the application of traditional KHF techniques. Another major goal of the Masters Course is to cultivate decency and understanding of the laws of nature, as practitioners of Hapkido.
---
KHF OFFICIAL NOTICE
Date: October 19th, 2013 - October 21st, 2013
Location: Central Institute for Training, Kyung-Ju, Korea
Application Date: Due by October 11th, 2013
Fee: $300.00 US (includes accommodation, uniform, textbook, cane, short-stick)

Certificate: KHF Master Certificate, Diploma of Master's Course (3rd Dan holders, receive their Masters Certificate when they are awarded 4th Dan)
Future Seminars:
2014 Spring Session: The 3rd weekend of May (for 3 days 2 nights)
2014 Autumn Session The 3rd weekend of October (for 3 days 2 nights)

For further information please contact Master Bae:
Tel. 82-2-452-3538
Tel. 82-2-3437-3530
khfdirector@gmail.com
---
3rd Korea Hapkido Federation Jung Sool Kwan Seminar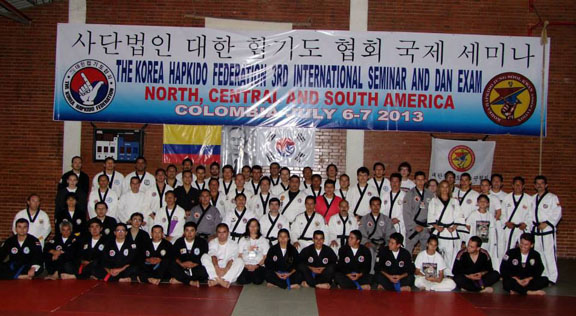 The 3rd Korea Hapkido Federation JungSoolKwan seminar was held in the City of Bogota Colombia on July 6th and 7th, 2013. There were over 90 participants from all over Colombia and the United States.
Master Fabian Duque was very impressed with the technical level of all of the participants.
---
Hapkido Summer Camp - Poland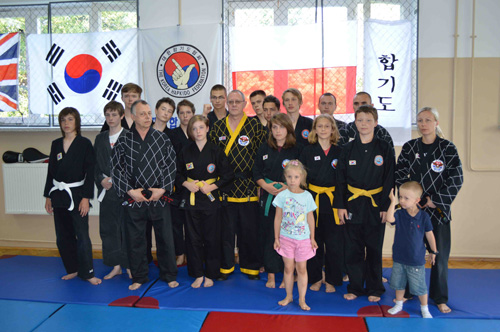 Jodłówa Tuchowska, Poland… the Polish chapter of the European Hapkido Alliance recently hosted a summer camp for students of Moo Hak Kwan Hapkido, in which all aspects of Hapkido training were covered. The beautiful setting for the camp was near Jodłówa Tuchowska in the Polish mountains. The camp was hosted by Polish Hapkido instructors Rafał Przybycien and Kasia Sterkowicz-Przybycien. Special guest instructors from England were Master Sam Plumb 7 Dan, Chief Instructor of the European Hapkido Alliance and his assistant Master Nick Sellars, 5th Dan. Social activities were held at the camp including Karaoke and a barbecue. In addition to the camp events, Kasia Sterkowicz-Prybycien tested successfully for her 4th Dan black belt.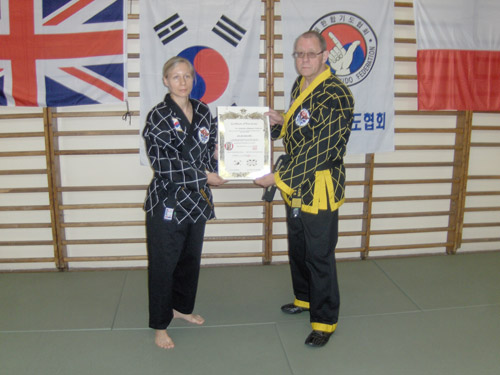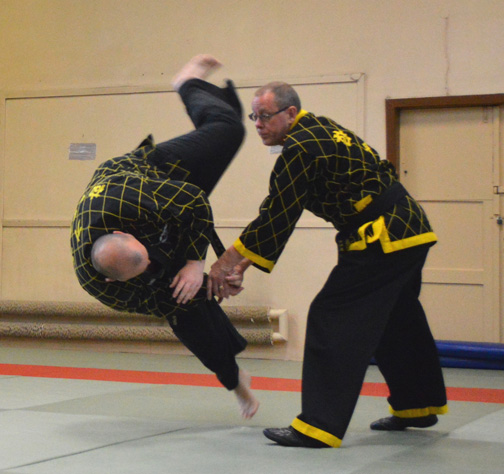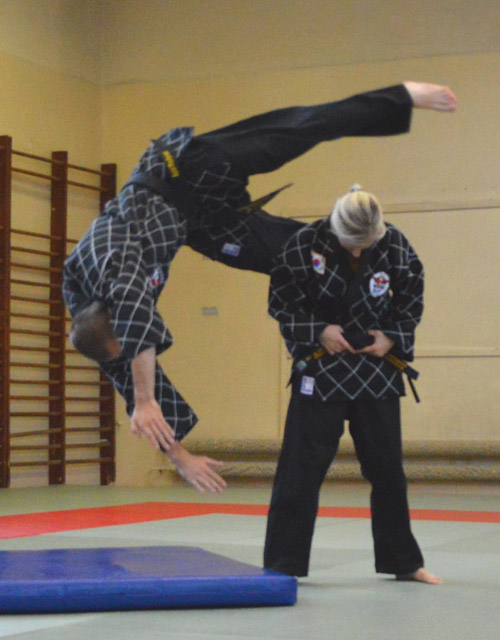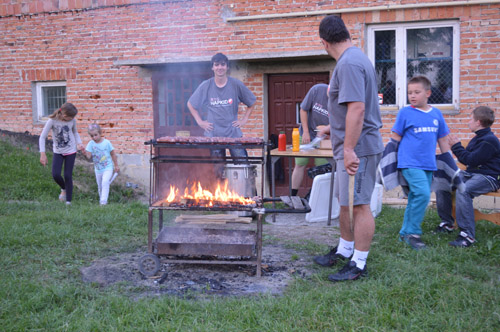 ---
Lee's Martial Arts Academy Celebrates new home
By Josh Kulla 2/26/10
Reprinted from WilsonvilleSpokesman.com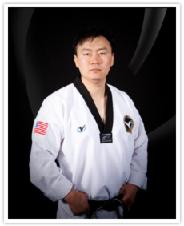 Lee's Martial Arts Academy recently celebrated the opening of its new studio with a ribbon cutting and performance by its demonstration team. Opening a new business in the current economic climate understandably takes an act of faith.

And that's exactly what Julie Lee and her husband, Master C.Y. Lee, both natives of South Korea, understood when they opened Lee's Martial Arts Academy in Wilsonville over five years ago.

Now, entering their sixth year, they are celebrating a recent move to a new studio in Town Center Square that formerly hosted 24-Hour Fitness.

The Lees held a grand opening open-house event on Monday, Feb. 22, with appearances by city officials, including Wilsonville Mayor Tim Knapp, as well as local business leaders. A ribbon-cutting was held, along with an athletic and acrobatic demonstration by the Academy's renowned demonstration team.

Their first studio was in a strip mall just north of the Wilsonville Post Office. It grew to become a familiar sight to local residents as the Lee's established themselves and their business.

Specializing in TaeKwonDo and Hapkido, Master Lee not only holds a degree in combative martial arts from South Korea's Yong-In University, he has accumulated over 20 years of teaching experience, including a stint instructing the South Korean national Hapkido squad.

At the same time, he has continued his own studies and currently holds a sixth-degree Black Belt in Hapkido and a fifth-degree Black Belt from the World TaeKwonDo Federation.
---
News From the KHF - New Zealand
Moorim Hapkido Martial Arts Centre, headed by Master Shin, Jae Hwan held a demonstration and marched in the Howick Santa Parade which is one of the biggest event of the year in Auckland City. From the photos it appears that a great time was had by everyone.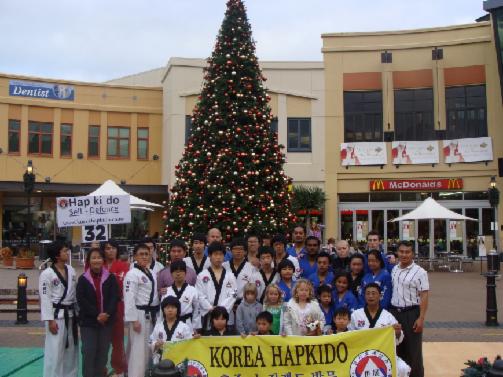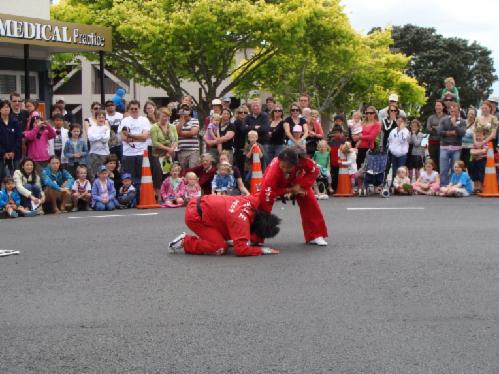 In addition they were visited by Korea Hapkido Federation Gang-Won-Do region Demonstration team. The Demonstration was held at The Botany Shopping Centre Mall.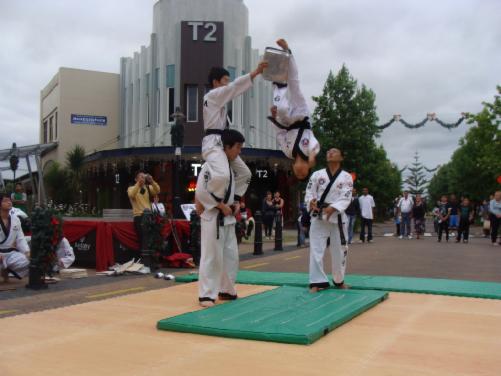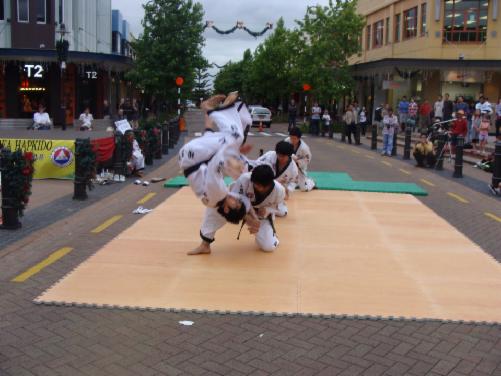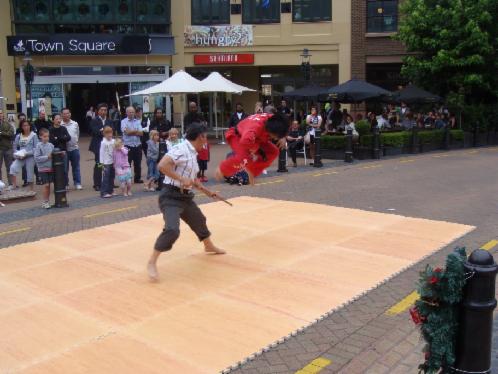 ---
International Hapkido Federation
8th Triennial World Championships - Battle Creek, MI
Kellogg Arena, Battle Creek, MI on August 6-8, 2010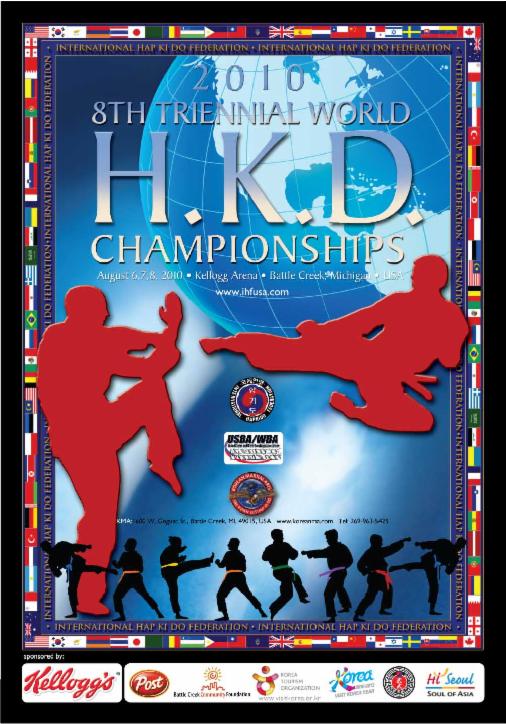 The Championships aims to create a competitive platform where the value of Hap Ki Do will be highlighted by the many important representatives of the world. The Championship promises total martial arts experience for competitors and attendees. All of these, we promise, will happen in the temperate and warm climate of Battle Creek, Michigan, U.S.A.
Please contact us by phone at (269) 963-5425 or you may email us at hapkido2010worldchampionships@yahoo.com should you have any inquiries. Official Championship website is www.ihfusa.com for more information updates and registration.
---
TMAS - Specializes in teaching foreign students Hapkido in Seoul, Korea.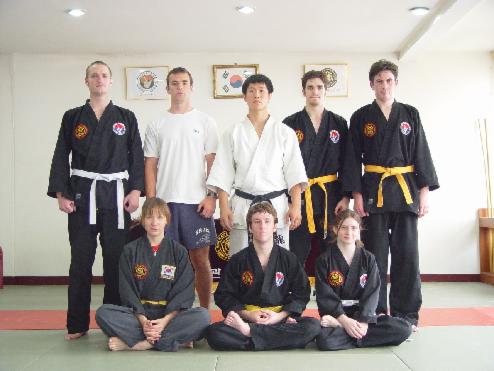 Master Kim with a group of his foreign students

Total Martial Arts System (TMAS), located in Seoul Korea specializes in teaching foreign students WTF style Taekwondo and KHF style Hapkido.

Master Kim, Nam Su, founder of TMAS graduated from Yong-In University, Korea's most prominent martial arts institution and has mastered several martial arts including KHF Hapkido, Taekwondo, Yudo, Yongmoodo, and Teukgongmoosul (Special Forces techniques). Master Kim been teaching foreigners, both military personnel and private individuals, for several years. Together with his foreign assistant master they have developed a martial arts program designed specifically for foreigners taught completely in English. All TMAS classes are taught in English so you can learn KHF Style Hapkido, and do so in the true style of Korean martial arts, training and spending time together like a family.

When many foreign students arrive in Korea they are shocked to find that most martial arts dojangs do not have English speaking instructors and this make a students efforts far more challenging from a learning perspective.

Master Kim stated that "It is difficult for foreign students to learn the techniques properly, more often copying motion as opposed to learning the theory and practice that generates true power. This is why people continually come to train in Korea, in the hopes to learn the true practice and power of techniques from the lands where they originated. We seek to meet the needs of these students while still maintaining the quality of our programs"

The TMAS program not only furthers the students Hapkido knowledge and skills, it also stresses teaching Korean culture so that a student may more comfortably pursue their professional or personal tasks while living in Korea.

To learn more about this program please refer to the TMAS website at www.t-m-a-s.com.

---
Foreign Students wishing to Train in Korea
KHF Headquarters, Seoul, Korea
The KHF would like to invite anyone visiting Korea to train with some of our top masters. We will be glad to help anyone visiting Korea to find a Hapkido dojang (school). Additionally, Master Kim, Nam Je, KHF 8th dan, has offered to open his dojang to anyone visiting Seoul. Master Kim, Nam Je is on of the most respected masters in Korea and was featured on the television Show "Fight Quest" representing Hapkido as a combat art.
If you are visiting a province outside of Seoul, the KHF office will provide you with a training facility near your destination. The KHF has schools throughout Korea and has the largest membership of any Hapkido association in Korea.
If you are visiting Korea, please contact the KHF in order to schedule classes:
Korea Hapkido Federation
18-11 Rung-Dong
Kwangjin-Ku
Seoul 143-180
South Korea
Tel : 82-2-3437-3430
Fax : 82-2-456-0953
---
Moorim Hapkido Martial Arts Centre Black Belt Examination
Howick, Auckland, NZ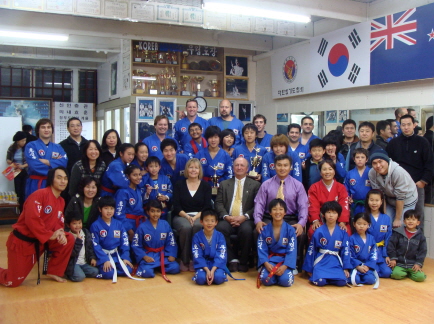 Master Shin, Jae Hwan of the Moorim Hapkido Martial Arts Center in Howick, Acukland, New Zealand recently held the schools first black belt examination. The school has been open for a little over two and a half years and is proving to be very successful.

During the examination thirteen students tested for their Dan rank, of these students eight successfully passed the exam and are now Korea Hapkido Federation certified black belts. During the test Master jenny performed a womens self defense demonstration while Instructor Andy excited the spectators with a nunchuck exhibition.

Master Shin is determined to spread authentic KHF style Hapkido throughout New Zealand and has been very impressed with the desire and effort he has witnessed from his students. "The people of New Zealand are very keen to learn Hapkido as well as Korean culture. They are very enthusiastic about learning authentic Hapkido".

If anyone is interested in learning KHF style Hapkido in New Zealand, please contact Master Shin at Moorim Hapkido Martial Arts Centre, Unit B 239 Moore Street, Howick Auckland, New Zealand. You can call Master Shin at (09) 537-0450.
---
The Passing of Master Myung, Kwan Sik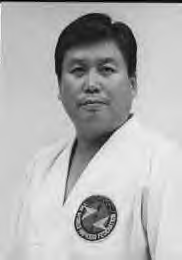 By Kevin F. Donohue
July 26th, 2009
It is with great regret that I inform you of the passing of Master Myung ,Kwan Sik 10th Dan and founder of the World Hapkido Federation (WHF). Master Myung died Sunday 7/19/09. I have no further details regarding his passing.
Myung Kwang-Sik was born in North Korea but lived in Seoul for most of his early life. Master Myung began his study of Hapkido with Ji Han Jae in Seoul, Korea in 1957 at the age of 16. Master Myung later received lessons from Choi Yong-Sul, who he considered his teacher.
In 1967 the Sung Mu Kwan of the Korean Hapkido Association sent 15 members of demonstration teams, including Myung, to Vietnam to demonstrate their art and to teach Korean, US, and Vietnamese troops as well as Special Forces.
By 1968, Myung published a 254-page, Korean-language book, "Hapkido,". This was later followed by the first major Hapkido book in English, "Hapkido - Art of Masters" (October, 1976). Master Myung was not just a pioneer of using books to spread Hapkido, he was also one of the first to use vidoe tapes to assist in teaching.
He was a major force in the growth of Hapkido in the United States and Mexico and his passing will be felt by the entire Hapkido world. Our condolences to his family, friends and students.
---
LA Times Article on the Passing of Grand Master Bong Soo Han
By Jocelyn Y. Stewart, Times Staff Writer
January 14, 2007

In 1971 the American public knew little about the martial art known as hapkido. Then came the movie "Billy Jack" and an unforgettable performance by a then-unknown martial arts instructor, Bong Soo Han.
Standing nearly nose to nose with one of the movie's villains, Han, a stunt double for Tom Laughlin, the movie's star, delivers a quick kick to the man's jaw, flooring him. "Billy Jack" received mixed reviews from critics, but such scenes captured the imagination of the moviegoing public and sent some out seeking to learn the art.
Those early students found Han at his dojang, or studio, in Santa Monica, as did thousands of others. For the rest of his life, he taught and promoted the martial art through his International Hapkido Federation, earning recognition as the father of hapkido in the Western world.
Han died Monday at his home in Santa Monica from complications of cancer, said Jon Davis, a spokesman for the family. He was 73.
"He was, for me, the quintessential martial artist," said Joe Hyams, an author and longtime friend. "Master Han always handled his role as a grand master with a really profound sense of who he was and what he represented. He was an inspiration for his students."
Born Aug. 25, 1933, in On Chun, near Seoul in what is now South Korea, Han was the youngest of five children. His parents, In Suk Han and Hee Suk Han, made their living farming. During Japan's occupation of Korea, Han studied the Japanese martial arts kendo and judo in school. Later he earned a black belt in an art known as kwon bup. During the Korean War, he put his study of martial arts on hold and fought with the army.
After his discharge, Han was in Seoul one day and observed Young Sul Choi performing a demonstration of hapkido, which has been described as the "art of coordinated inner strength." Hapkido incorporates powerful kicking techniques and fluid throwing. It is based on the water principles of yielding, circular motion and penetration. "I was most impressed by its flowing, effortless movements," Han said in an interview with Martial Arts & Combat Sports magazine in 2001. "Instead of clashing, there were redirection and circular motion … the way of natural movements."
Han became a student of Choi, considered one of Korea's best fighting masters, then entered a Buddhist monastery to further develop his martial arts knowledge. In his early days as a teacher, Han trained Korean military personnel and police, as well as Green Berets in the U.S. Army's Special Forces.
Han moved to the United States in 1967, hoping to spread hapkido in the West. "In order to spread out all over the world, you have to come to the biggest and most powerful nation," he said in a 1984 interview.
On July 4, 1969, Han gave a demonstration at a park in Pacific Palisades. Laughlin was in the audience that day and later became one of Han's students. Though Laughlin performed much of his own stunt work in "Billy Jack," Han performed the more advanced techniques and choreographed fight scenes.
"I saw that and thought, 'Boy, oh, boy. That's great,' and I went over to Han's dojang and enrolled," said Hyams, a martial artist who wrote "Zen in the Martial Arts," which explores the teachings of Han and others.
"Billy Jack" led to other film work, with Han appearing in or coordinating fight scenes in "Force Five," "Kentucky Fried Movie" and "Cleopatra Jones," among others.
Han married and later divorced Christen Oh. He is survived by their two children, daughter Susan Han and son Tad Han, both of Santa Monica. In addition, Han is survived by a sister, Ok Su Han of Santa Monica, and son-in-law Kevin Riley of Santa Monica, whom Han considered a son.
Since he opened his first school in the 1960s, Han's teachings have spread through his International Hapkido Federation, which now consists of nine affiliated schools.
Though his students might have gone to him with the goal of fighting, Han taught them the spiritual and mental dimensions of martial arts.
The most important thing Han was taught was "to know oneself as a human being," he once said. The most important thing he could teach a student, he said, was "the perfection of character." In decades of teaching thousands of students, Han promoted only about 100 to black belt. "He held very high standards. It didn't come easy," Davis said.
The teacher could throw a 250-pound man easily, yet he was gentle. A charismatic figure, he radiated confidence, calm and security and set an example for what students could obtain through the study of martial arts, Hyams said. Han, a grand master, held the rank of 9th Dan Black Belt.
"There's a samurai maxim: 'A man who's attained mastery of his art reveals it in his every action,' " Hyams said. "And he was a master of his art."
A memorial service for Han is scheduled for Wednesday at 1 p.m. at Pierce Bros. Westwood Village Memorial Park and Mortuary, 1218 Glendon Ave., Los Angeles.
---
Victim's Neighbors Get Lesson in Defense
New York Daily News Article on Jon Kleineman KHF Master
By Tamer El-Ghobashy and Leo Standora
Daily News Dec 1, 2005
Jon Kleineman a martial arts expert held a self-defense seminar yesterday in the Chelsea apartment building where a young woman was tortured and molested on Halloween by a fake firefighter.
Only a dozen or so residents of the large building - just five of them women - listened to Hapkido black belt Jon Kleineman, 29, talk about avoiding trouble and how to kick and punch your way out of it.
"I wanted to have some knowledge about protecting myself," said Donna Darrell, 44. "Knowing gives you a sense of power and confidence." Darrell said she was among the many New Yorkers shaken by the Halloween attack in which cops say alleged sex fiend Peter Braunstein conned his way into his victim's home by lighting small blazes and posing as a firefighter. "I felt like it hit too close to home," Darrell said. "It was sickening and I didn't feel safe any longer." Braunstein, 41, a freelance writer, has been on the lam for a month. He is was one of the city's most wanted fugitives.
The 90-minute self-defense seminar was held at the request of the W. 24th St. building's owner Linda Kleban, who said she wanted to give her tenants "something they can use." Kleban said she's installing new security doors in the six-story building but told tenants they have to do their part, too. "Someone let this creep into the building," she said. "That means we have to be more careful even it it means being rude."